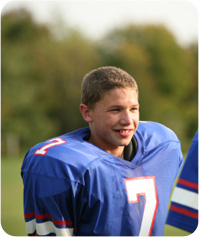 We are the specialists in getting you better fast. Our progressive treatment programs are designed to get you feeling better and back to life fast! You will receive specialized care from the moment you walk in the door to the moment you leave. You will also receive self-help tips for home care, self improvement, and injury prevention.
We are experts in injury prevention. This exciting program is best for all age groups and helps young athletes, injured or not, to improve their performance. Our rehabilitation programs consists of Balance and Stabilization Training, Core and Strength Training, Flexibility Training, Neuromuscular Training, Plyometrics, Speed & Agility Work and Weight Lifting Education.
Benefits of Our Sports Injury services:
Start seeing immediate results
Restore flexibility and strength
Sport specific exercise programs
Improve athletic performance
Learn to avoid and prevent recurring injuries
Improve comfort levels while performing
How long before the benefits are realized?
Benefits are realized immediately.
Why Act Now?
The sooner you come in the sooner you can maximize your athletic potential. Take your performance to the next level and prevent future injuries. Call now and schedule and appointment.